featuring
Snow Mercy
SVDL-821
The pictures above are from the full photo gallery which you can download in one zip file.
There are 53 pictures in the full photo gallery.
Video Description
---
Nearly 6 ft. tall Snow Mercy has no problem wrapping her looooong legs around her victims and squeezing the living daylights out of them!
And that's exactly what she does to her boyfriend while wearing a sexy red lingerie outfit. After trying to surprise him by wearing it he doesn't seem to even notice or care. So she decides to make sure he never forgets just how sexy she looks while wearing it by giving him a severe scissor beating he'll always remember! And for those who love the lotus hold you'll love Snow Mercy's new twist on the move as she not only has his arms locked in her legs but also pounds his head into the mattress at the same time!
So check out Snow Mercy in her 'Lingerie Leg Lashing!'.
---
Click the thumbnail below to view the preview clip!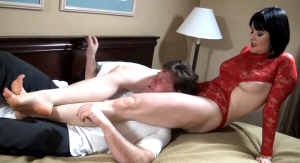 Full Download Video Statistics - HD Video

Compression Format:
MP4

Video Length:

31 minutes

Encoded Bitrate:

3000Kbps
Aspect Ratio
16:9 Widescreen

Default Video Size:

1280x720
Total file size = 650 MB
The photo gallery/screen captures are in a zip file. Click the link below for video instructions on how to open a zip file.