King Size Scissors!
featuring
Sexy Muscle Girl
SVDL-679
The pictures above are from the full photo gallery which you can download in one zip file.
There are 84 pictures in the full photo gallery.
Video Description
---
Sexy Muscle Girl has heard enough of her boyfriend's constant nagging so when he starts to complain about the hotel room she reserved with two twin beds instead of a single king size bed...she introduces him to her 'King Size Scissors' instead!

It wasn't more than a few seconds into the filming of this video when our victim started to complain that there was no way he could withstand the type of scissor pressure Sexy Muscle Girl was applying for a full 30 minutes. So...I had to instruct her to let up a little but also decided to give her the thumbs-up signal whenever I wanted her to pour it on and make him tapout. After watching this video...you'll realize she was given the thumbs-up signal more than a few times as her poor victim's head turns completely red and is forced to tap-out again and again!

Do you think you can take Sexy Muscle Girl's 'King Size Scissors'!? If so...then contact her today!
---
Click the thumbnail below to view the preview clip!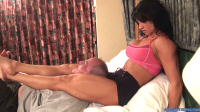 Full Download Video Statistics - HD Video

Compression Format:
Window Media Video 9

Video Length:

29 minutes

Encoded Bitrate:

3000Kbps
Aspect Ratio
16:9 Widescreen

Default Video Size:

1280x720
Total file size = 649 MB
The photo gallery/screen captures are in a zip file. Click the link below for video instructions on how to open a zip file.
All models were at least 18 years old when they were photographed.
---
All ScissorVixens content is protected by U.S. and International copyright laws. Any unauthorized duplication and distribution is strictly prohibited!
Copyright ScissorVixens.com 2004-2022