Scissors Down Under!
featuring
Shauna Ryanne
SVDL-657
The pictures above are from the full photo gallery which you can download in one zip file.
There are 83 pictures in the full photo gallery.
Video Description
---
Gorgeous Shauna Ryanne is a proud American girl (and ScissorVixen) so when her Australian boyfriend can't seem to stop complaining about their vacation in America and telling her how everything is so much better 'down under'...she shows him something that most definitely is NOT better down under...like her CRUSHING SCISSORS!

As to be expected with Shauna Ryanne...she absolutely murders her victim in one scissor submission after the other making him tap-out almost immediately every time she pours on the pressure...which is often!

Check out Shauna Ryanne in her ScissorVixen video titled 'Scissors Down Under!'.
---
Click the thumbnail below to view the preview clip!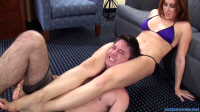 Full Download Video Statistics - HD Video

Compression Format:
Window Media Video 9

Video Length:

31 minutes

Encoded Bitrate:

3000Kbps
Aspect Ratio
16:9 Widescreen

Default Video Size:

1280x720
Total file size = 695 MB
The photo gallery/screen captures are in a zip file. Click the link below for video instructions on how to open a zip file.
All models were at least 18 years old when they were photographed.
---
All ScissorVixens content is protected by U.S. and International copyright laws. Any unauthorized duplication and distribution is strictly prohibited!
Copyright ScissorVixens.com 2004-2022