Brandi Mae's Savage Scissors!
featuring
Brandi Mae
SVDL-637
The pictures above are from the full photo gallery which you can download in one zip file.
There are 62 pictures in the full photo gallery.
Video Description
---
Standing at a very compact and muscular 5'2" tall Brandi Mae has some of the most impressive thighs we've ever been scissored by! It's almost hard to believe that a girl so beautiful can be so muscular and powerful and in the case of this video...so SAVAGE!

We were the first website to discover Brandi Mae several years ago, when we introduced her to scissors, and since then she's built up quite a 'scissor resume' having worked with many other websites since that time. Now she's back to where it all started but this time...she's added even more skull-crushing muscle in both her upper-body and of course her world-class thighs!

Watch as she holds nothing back until both Drew and his victim have to tap in her latest ScissorVixen video titled 'Brandi Mae's Savage Scissors!'.
---
Click the thumbnail below to view the preview clip!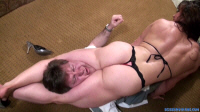 Full Download Video Statistics - HD Video

Compression Format:
Window Media Video 9

Video Length:

16 minutes

Encoded Bitrate:

3000Kbps
Aspect Ratio
16:9 Widescreen

Default Video Size:

1280x720
Total file size = 372 MB
The photo gallery/screen captures are in a zip file. Click the link below for video instructions on how to open a zip file.
All models were at least 18 years old when they were photographed.
---
All ScissorVixens content is protected by U.S. and International copyright laws. Any unauthorized duplication and distribution is strictly prohibited!
Copyright ScissorVixens.com 2004-2022