Leighanna's Savage Scissors!
featuring
Leighanna Ross
SVDL-613
The pictures above are from the full photo gallery which you can download in one zip file.
There are 62 pictures in the full photo gallery.
Video Description
---
The first time we shot with Leighanna Ross several months ago she was in ripped contest-ready shape. Back then she absolutely murdered us in her very first savage scissors video so when she told us she was in her 'softer' off-season shape...we were hoping her scissors would be a little 'softer' as well. Well...even though her legs felt softer around our heads...once she poured on the pressure...it was right back to screaming and tapping-out almost instantaneously! There was nothing 'softer' or off-season about her second savage scissors!
Check out Leighanna Ross in her second savage scissor video titled 'Leighanna's Savage Scissors!'.
---
Click the thumbnail below to view the preview clip!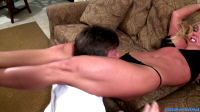 Full Download Video Statistics - HD Video

Compression Format:
Window Media Video 9

Video Length:

15 minutes

Encoded Bitrate:

3000Kbps
Aspect Ratio
16:9 Widescreen

Default Video Size:

1280x720
Total file size = 345 MB
The photo gallery/screen captures are in a zip file. Click the link below for video instructions on how to open a zip file.
All models were at least 18 years old when they were photographed.
---
All ScissorVixens content is protected by U.S. and International copyright laws. Any unauthorized duplication and distribution is strictly prohibited!
Copyright ScissorVixens.com 2004-2022