Alexis Rain's Scissor Of Pain!
featuring
Alexis Rain
SVDL-600
The pictures above are from the full photo gallery which you can download in one zip file.
There are 105 pictures in the full photo gallery.
Video Description
---
Amazing what a pair of knee-high leather boots can do for an already dominant Alexis Rain! Alexis Rain was an immediate hit after her first video and we know you are going to LOVE her even more in this ScissorVixen video! Watch as she teaches Drew a thing or two about being an obedient 'slave boy' using her short, muscular and very powerful thighs! Check out Alexis Rain in 'Alexis Rain's Scissor Of Pain!
---
Click the thumbnail below to view the preview clip!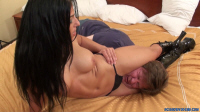 Full Download Video Statistics - HD Video

Compression Format:
Window Media Video 9

Video Length:

33 minutes

Encoded Bitrate:

3000Kbps
Aspect Ratio
16:9 Widescreen

Default Video Size:

1280x720
Total file size = 764 MB
The photo gallery/screen captures are in a zip file. Click the link below for video instructions on how to open a zip file.
All models were at least 18 years old when they were photographed.
---
All ScissorVixens content is protected by U.S. and International copyright laws. Any unauthorized duplication and distribution is strictly prohibited!
Copyright ScissorVixens.com 2004-2022