Look But Don't Touch!
featuring
Breyanna Marie
SVDL-597
The pictures above are from the full photo gallery which you can download in one zip file.
There are 76 pictures in the full photo gallery.
Video Description
---
As a real-life exotic dancer, Breyanna Marie understands the rules of the club and she also understands how to take care of those who don't follow those rules! So when a customer requests a private dance because he is mesmerized by her beautiful face and her big, muscular legs but can't seem to keep from touching her...Breyanna Marie decides to touch his skull with her powerhouse thighs! She works him over and over and over again in skull-crushing head scissors, rib-breaking body scissors and murderous grapevines, occasionally combined with a neck-wrench, that nearly split his little body in half! And just for good measure she tosses in a few violent scissor snaps thrusting her hips into it while threatening to tear his head off of his shoulders in a front head scissors on the couch! Breyanna Marie is a real CRUSHER and one look at Drew's face, nearly matching her red bra, will tell you just how much pressure this ebony beauty can bring! Breyanna Marie teaches a Drew a painful lesson in 'Look But Don't Touch!'.
---
Click the thumbnail below to view the preview clip!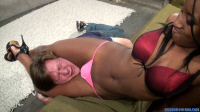 Full Download Video Statistics - HD Video

Compression Format:
Window Media Video 9

Video Length:

29 minutes

Encoded Bitrate:

3000Kbps
Aspect Ratio
16:9 Widescreen

Default Video Size:

1280x720
Total file size = 644 MB
The photo gallery/screen captures are in a zip file. Click the link below for video instructions on how to open a zip file.
All models were at least 18 years old when they were photographed.
---
All ScissorVixens content is protected by U.S. and International copyright laws. Any unauthorized duplication and distribution is strictly prohibited!
Copyright ScissorVixens.com 2004-2022