Scissor Serum
featuring
Alecks
SVDL-594
The pictures above are from the full photo gallery which you can download in one zip file.
There are 150 pictures in the full photo gallery.
Video Description
---
See what happens to a man who refuses to talk after he tells a male interrogator that he's not going to. That's when Alecks, a drop-dead gorgeous red-head with killer thighs, is called in to do her thing...extract information! The foolish man starts to laugh when he initially sees her wondering why a woman was sent in to do a man's job and telling her she's gonna' need some powerful truth serum to get him to speak. That's when Alecks forms an evil but very sexy grin on her face, knowing what she's about to do, and introduces him to her powerful 'Scissor Serum' instead! Watch as she starts out climbing up behind the man to rest her full weight on his shoulders while grabbing the cage behind her and latching on an eye-popping head-scissors that nearly knocks him out cold! Then she moves him to the floor where her legs can really get a killer grip and takes great joy in slowly torturing him in one scissor hold after the other. You'll also see some of the most brutal and severe grapevines and crucifix holds in combination with a neck-wrench that we've ever seen as Alecks appears to be literally trying to pop the man's head off like as if it were the top of a dandelion flower! At one point Alecks smiles while crushing the man in a head scissors and asks..."So...how do you like my extraction techniques...?". Too bad for him he's unable to talk and can only try to survive her brutal thighs as they continue to nearly squeeze him to death. In the end she clamps on an excruciating reverse headscissors and while looking back asks him one last time for the information. Then as he begins to blurt it out (an address she is looking for) she finishes the sentence for him. He then realizes she had the information all along and ask..."Why!?...why did you need to do this to me!?" to which she replies..."Because I love to torture men!". And with that she straightens her thighs, tightens up her glutes and pours on the pressure with full power causing the man to leave out blood-curdling screams, with his arms and legs kicking and flailing about, as he takes his last breaths!
---
Click the thumbnail below to view the preview clip!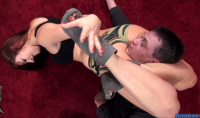 Full Download Video Statistics - HD Video

Compression Format:
Window Media Video 9

Video Length:

31 minutes

Encoded Bitrate:

3000Kbps
Aspect Ratio
16:9 Widescreen

Default Video Size:

1280x720
Total file size = 715 MB
The photo gallery/screen captures are in a zip file. Click the link below for video instructions on how to open a zip file.
All models were at least 18 years old when they were photographed.
---
All ScissorVixens content is protected by U.S. and International copyright laws. Any unauthorized duplication and distribution is strictly prohibited!
Copyright ScissorVixens.com 2004-2022