My Thighs Will Crush Your Head!
featuring
Alyaha
SVDL-593
The pictures above are from the full photo gallery which you can download in one zip file.
There are 82 pictures in the full photo gallery.
Video Description
---
While doing push-ups, cute blonde gym-rat, Alyaha, is confronted by an arrogant man making fun of the way she's exercising. He then challenges her to squeeze a hand-grip between her thighs telling her it's much harder then it looks. When she fails to 'balance' it between her knees in order to get a good enough grip to squeeze it shut with her legs...he starts to laugh at her again. BIG MISTAKE as Alyaha tells him "My Thighs Will Crush Your Head!" and then balances his skull between her thighs and does just that! Watch as Alyaha uses her powerful thighs to thigh-bomb, thigh-chop and thigh-snap the older man senseless in every scissor hold imaginable totally ignoring his pleas for mercy. In the end she decides she's heard enough from the smart-ass man and silences him for good in an eye-popping reverse head scissors! Alyaha is one girl you don't want to challenge in the gym!
---
Click the thumbnail below to view the preview clip!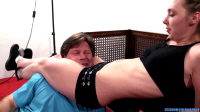 Full Download Video Statistics - HD Video

Compression Format:
Window Media Video 9

Video Length:

38 minutes

Encoded Bitrate:

3000Kbps
Aspect Ratio
16:9 Widescreen

Default Video Size:

1280x720
Total file size = 848 MB
The photo gallery/screen captures are in a zip file. Click the link below for video instructions on how to open a zip file.
All models were at least 18 years old when they were photographed.
---
All ScissorVixens content is protected by U.S. and International copyright laws. Any unauthorized duplication and distribution is strictly prohibited!
Copyright ScissorVixens.com 2004-2022