Seeing Scissor Stars
featuring
Jenna Marie
SVDL-592
The pictures above are from the full photo gallery which you can download in one zip file.
There are 96 pictures in the full photo gallery.
Video Description
---
When Jenna Marie goes out of her way to look sexy for her man she wants him looking at one thing...HER...and not their exhibitionist female neighbor across the street! So when she catches Drew peeking out of their apartment window at their female neighbor, who likes to walk around in front of her open window naked, he tries to convince her that he was only looking at the stars. Well...Jenna Marie isn't buying it since it's a cloudy night and there's no way he could see any stars except the stars she's about to show him...her 'scissor stars' that is! Check out SEXY Jenna Marie in her ScissorVixen video titled 'Seeing Scissor Stars'!
---
Click the thumbnail below to view the preview clip!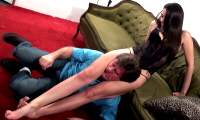 Full Download Video Statistics - HD Video

Compression Format:
Window Media Video 9

Video Length:

33 minutes

Encoded Bitrate:

3000Kbps
Aspect Ratio
16:9 Widescreen

Default Video Size:

1280x720
Total file size = 750 MB
The photo gallery/screen captures are in a zip file. Click the link below for video instructions on how to open a zip file.
All models were at least 18 years old when they were photographed.
---
All ScissorVixens content is protected by U.S. and International copyright laws. Any unauthorized duplication and distribution is strictly prohibited!
Copyright ScissorVixens.com 2004-2022