5 Star Scissors!
featuring
Tara Tapout
SVDL-588
The pictures above are from the full photo gallery which you can download in one zip file.
There are 49 pictures in the full photo gallery.
Video Description
---
When you have the kind of legs like Tara Tapout has...they're meant to be on full display. But when her husband complains that her sexy mini-skirt is a bit too mini and on the 'sleazy side' for their night out at a local 5 star restaurant...Tara decides to show him her '5 Star Scissors' instead! Watch as she nearly decapitates his head from his shoulders using her muscular powerhouse thighs to apply neck-wrenching figure-4's and skull-crushing head scissors that have him begging for mercy but getting none! Then she tries to slice him in half with body scissors that flatten his stomach like a pancake and nearly tears him in half with leg-splitting grapevines! In the end she informs him that she and her friend are going to go out to that 5 star restaurant but not before knocking him out cold in her 5 star scissor knockout!
---
Click the thumbnail below to view the preview clip!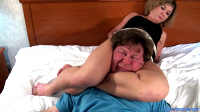 Full Download Video Statistics - HD Video

Compression Format:
Window Media Video 9

Video Length:

30 minutes

Encoded Bitrate:

3000Kbps
Aspect Ratio
16:9 Widescreen

Default Video Size:

1280x720
Total file size = 667 MB
The photo gallery/screen captures are in a zip file. Click the link below for video instructions on how to open a zip file.
All models were at least 18 years old when they were photographed.
---
All ScissorVixens content is protected by U.S. and International copyright laws. Any unauthorized duplication and distribution is strictly prohibited!
Copyright ScissorVixens.com 2004-2022