Ms. Logan's leg scissors
featuring
Cali Logan
SVDL-587
The pictures above are from the full photo gallery which you can download in one zip file.
There are 76 pictures in the full photo gallery.
Video Description
---
Stunningly gorgeous and well-known fetish model, Cali Logan, makes her ScissorVixen video debut playing a female executive fed up with repeatedly finding a pair of scissors laying on the floor next to her office desk. So when the male janitor, responsible for keeping her office clean, walks in to remove the trash she confronts him about it. "You're not one of those leg fetish/scissor freaks are you...?" she asks while hiking up her skirt and teasing him with her silky smooth but very firm thighs. "I get the feeling you're trying to tell me something by putting those scissors by my desk every night!" she tells him. Then she hops out of her chair and tells the janitor to lay down on top of her desk and hang his head slightly over the edge. She then says..."Ok...I know what you want...you want to experience 'Ms. Logan's leg scissors' don't you!?". Then Ms. Logan proceeds to give him the scissor experience of a lifetime starting out in a CRUSHING standing head scissors while hiking up her skirt even higher saying..."Here....have a better look at what is squeeeeezing your neck!". On and on it goes as Ms. Logan works the helpless janitor over in one eye-popping head scissors after the other including a few rib-crushing body scissors and grapevines that nearly tear him in half! She finally ends it the way she started...another insanely sexy standing headscissors but this time she puts him to sleep! Walking out of the office she pauses to turn around, while rubbing her sexy thighs, saying to the unconscious man..."You're no match for these legs little janitor boy....see you tomorrow!". Think you have what it takes to take on 'Ms. Logan's leg scissors'!?
---
Click the thumbnail below to view the preview clip!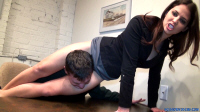 Full Download Video Statistics - HD Video

Compression Format:
Window Media Video 9

Video Length:

33 minutes

Encoded Bitrate:

3000Kbps
Aspect Ratio
16:9 Widescreen

Default Video Size:

1280x720
Total file size = 733 MB
The photo gallery/screen captures are in a zip file. Click the link below for video instructions on how to open a zip file.
All models were at least 18 years old when they were photographed.
---
All ScissorVixens content is protected by U.S. and International copyright laws. Any unauthorized duplication and distribution is strictly prohibited!
Copyright ScissorVixens.com 2004-2022