Smoking Scissors
featuring
Buff the Body
SVDL-582
The pictures above are from the full photo gallery which you can download in one zip file.
There are 53 pictures in the full photo gallery.
Video Description
---
If there's one thing a fit, muscle babe like 'Buffy the Body' doesn't care for is dealing with the horrible odor of cigarettes. So when she catches Drew breaking her rules by trying to hide the fact that he's been smoking in the house...she helps him kick the habit once and for all by giving him a taste of her 'Smoking Scissors'!
---
Click the thumbnail below to view the preview clip!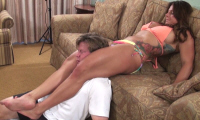 Full Download Video Statistics - HD Video

Compression Format:
Window Media Video 9

Video Length:

29 minutes

Encoded Bitrate:

3000Kbps
Aspect Ratio
16:9 Widescreen

Default Video Size:

1280x720
Total file size = 647 MB
The photo gallery/screen captures are in a zip file. Click the link below for video instructions on how to open a zip file.
All models were at least 18 years old when they were photographed.
---
All ScissorVixens content is protected by U.S. and International copyright laws. Any unauthorized duplication and distribution is strictly prohibited!
Copyright ScissorVixens.com 2004-2022