Sista Scissors
featuring
Breyanna Marie
SVDL-574
The pictures above are from the full photo gallery which you can download in one zip file.
There are 108 pictures in the full photo gallery.
Video Description
---
When you're a white man trying to act like a 'brotha' by calling a beautiful black woman 'sista' you better be prepared to pay the consequences! Gorgeous ebony model, Breyanna Marie, doesn't appreciate being called 'sista' by her scrawny white male co-worker and warns him not to say it again. Watch what happens next when he calls her 'sista' one too many times. She shows him what being a 'sista' is all about and teaches him a painful lesson in respect telling him..."You wanna' call me sista...!? Then it's gonna' be 'Sista Scissors' to you!". Breyanna Marie uses her big, powerhouse thighs to squeeze the life out of him in every way imaginable including a bodyscissor so powerful that his toes start to tingle and go numb from the crushing pressure nearly cutting him in half! In the end she finally gets what she wants...a little respect by making him call her 'Sista Scissors' from now on!
---
Click the thumbnail below to view the preview clip!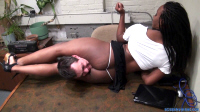 Full Download Video Statistics - HD Video

Compression Format:
Window Media Video 9

Video Length:

33 minutes

Encoded Bitrate:

3000Kbps
Aspect Ratio
16:9 Widescreen

Default Video Size:

1280x720
Total file size = 740 MB
The photo gallery/screen captures are in a zip file. Click the link below for video instructions on how to open a zip file.
All models were at least 18 years old when they were photographed.
---
All ScissorVixens content is protected by U.S. and International copyright laws. Any unauthorized duplication and distribution is strictly prohibited!
Copyright ScissorVixens.com 2004-2022