Scissor Pressure Meter
featuring
Megan Avalon
SVDL-572
The pictures above are from the full photo gallery which you can download in one zip file.
There are 129 pictures in the full photo gallery.
Video Description
---
As if Megan Avalon wearing a skimpy thong isn't enough to send your blood pressure through the roof...she raises it even higher by wrapping her big, muscular quads around Bill Wick's neck! She plays a nurse sent to take his blood pressure reading but he gives her an 'attitude' instead. Watch as Megan Avalon causes his blood pressure to rise to very dangerous levels in her latest ScissorVixen video titled 'Scissor Pressure Meter'!
---
Click the thumbnail below to view the preview clip!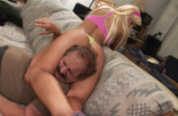 Full Download Video Statistics - HD Video

Compression Format:
Window Media Video 9

Video Length:

29 minutes

Encoded Bitrate:

3000Kbps
Aspect Ratio
16:9 Widescreen

Default Video Size:

1280x720
Total file size = 666 MB
The photo gallery/screen captures are in a zip file. Click the link below for video instructions on how to open a zip file.
All models were at least 18 years old when they were photographed.
---
All ScissorVixens content is protected by U.S. and International copyright laws. Any unauthorized duplication and distribution is strictly prohibited!
Copyright ScissorVixens.com 2004-2022