Aerial Scissors
featuring
Katarina Kat
SVDL-561
The pictures above are from the full photo gallery which you can download in one zip file.
There are 107 pictures in the full photo gallery.
Video Description
---
Katarina Kat is a gorgeous 5'9" tall Russian aerialist and gymnast with extreme flexibility able to bend, twist and wrap her long, powerful legs around anything from any position. And she can't wait to show Drew her latest move during a photoshoot but Drew doesn't show her much interest in wanting to see it. No matter...Katarina Kat loves to show off and she convinces him to oblige in assisting her latest leggy maneuver. He begrudgingly allows her to use his body as a 'human stripper pole' grabbing his legs and rotating her head downward towards the ground and quickly securing herself by wrapping her athletic thighs around his head in a standing 'inverted' reverse head scissors! She tells him this is something she's been working on which she calls 'Aerial Scissors' but Drew's not very impressed considering it's his head being crushed between her thighs! He tells her that he's going to put her down on the bed and when he does she needs to let go but there's no letting go when Katarina Kat has you trapped in her leg vise. And so the aerial scissors continue one after the other as Katarina Kat is having way too much fun to stop now. At one point she nearly knocks him out cold in an incredibly sexy reverse head scissors but lets him out before doing so telling him..."You know...I could easily kill someone with my legs!". And after you watch Katarina Kat in her debut ScissorVixen video titled 'Aerial Scissors' you will have no doubt she could do just that to Drew if she wanted to!
---
Click the thumbnail below to view the preview clip!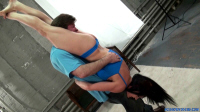 Full Download Video Statistics - HD Video

Compression Format:
Window Media Video 9

Video Length:

30 minutes

Encoded Bitrate:

3000Kbps
Aspect Ratio
16:9 Widescreen

Default Video Size:

1280x720
Total file size = 652 MB
The photo gallery/screen captures are in a zip file. Click the link below for video instructions on how to open a zip file.
All models were at least 18 years old when they were photographed.
---
All ScissorVixens content is protected by U.S. and International copyright laws. Any unauthorized duplication and distribution is strictly prohibited!
Copyright ScissorVixens.com 2004-2022