Under Scissor Pressure!
featuring
Envy
SVDL-560
The pictures above are from the full photo gallery which you can download in one zip file.
There are 63 pictures in the full photo gallery.
Video Description
---
Super muscular and powerful Envy returns to ScissorVixens.com to teach Drew what REAL PRESSURE is all about! She asks him to drive her to the gym but he tells her he's under a lot of pressure to get some work done and doesn't have the time. So she shows him how to make time after wrapping her huge 24" quads around his neck and tells him..."You wanna' see what pressure is...how about feeling my scissor pressure instead!?". Watch as Drew's face is nearly crushed flat like a pancake in Envy's frighteningly strong legs as she squeezes 100% nearly 100% of the time! Listen to his muffled screams as he's barely able to utter a word and instead frantically taps out hoping Envy releases her death grip. But Envy isn't going to stop until he's learned his lesson about giving her more respect and in the end she decides to knock him out cold ignoring his pleas about having more work to do. Something tells me that when Drew wakes up the only work he'll have to do is driving Envy to the gym!
---
Click the thumbnail below to view the preview clip!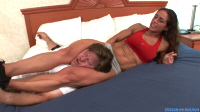 Full Download Video Statistics - HD Video

Compression Format:
Window Media Video 9

Video Length:

30 minutes

Encoded Bitrate:

3000Kbps
Aspect Ratio
16:9 Widescreen

Default Video Size:

1280x720
Total file size = 652 MB
The photo gallery/screen captures are in a zip file. Click the link below for video instructions on how to open a zip file.
All models were at least 18 years old when they were photographed.
---
All ScissorVixens content is protected by U.S. and International copyright laws. Any unauthorized duplication and distribution is strictly prohibited!
Copyright ScissorVixens.com 2004-2022