Broadway Scissors
featuring
Serenity
SVDL-538
The pictures above are from the full photo gallery which you can download in one zip file.
There are 111 pictures in the full photo gallery.
Video Description
---
Gorgeous fitness babe, Serenity, thinks she's got what it takes to make it on Broadway but Drew thinks otherwise. She starts singing a tune with the line..."Let me entertain you, let me make you smile..." in which he tells her she's doing neither. So she decides to entertain herself and make him frown by introducing him to her 'Broadway Scissors' instead! Watch as the sexy redhead uses her compact, muscular powerhouse thighs to CRUSH Drew senseless in a non-stop 100 percent all-out scissor attack. She works him over and over and over in eye-bulging front headscissors, neck-wrenching figure-4's, rib bending bodyscissors and flexes her glutes for maximum pressure in murderous reverse headscissors. In the end she decides to put him to sleep while singing him another song..."Bye, Bye Birdie" and leaves him laying on the floor a beaten and broken man. No doubt when Drew wakes up he'll be singing a different tune himself!
---
Click the thumbnail below to view the preview clip!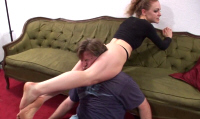 Full Download Video Statistics - HD Video

Compression Format:
Window Media Video 9

Video Length:

30 minutes

Encoded Bitrate:

3000Kbps
Aspect Ratio
16:9 Widescreen

Default Video Size:

1280x720
Total file size = 678 MB
The photo gallery/screen captures are in a zip file. Click the link below for video instructions on how to open a zip file.
All models were at least 18 years old when they were photographed.
---
All ScissorVixens content is protected by U.S. and International copyright laws. Any unauthorized duplication and distribution is strictly prohibited!
Copyright ScissorVixens.com 2004-2022