Carb Depletion Crush!
featuring
Envy
SVDL-532
The pictures above are from the full photo gallery which you can download in one zip file.
There are 105 pictures in the full photo gallery.
Video Description
---
Gorgeous dark-haired all-natural female bodybuilder, Envy, likes the way her physique looks just a few days away from her next big bodybuilding contest. The problem is her trainer thinks otherwise and while she's flexing in front of the mirror he tells her she isn't as defined as she should be and begins to criticize her for not starting to cut back on her carbohydrates sooner. Well...this doesn't sit too well with the sexy muscle babe and she tells him that maybe what he needs is her 'Carb Depletion Crush'! She begins to flex her thighs showing off plenty of 'contest ready' muscle and asks him if he'd like to get a closer look. Watch Envy as she CRUSHES the overmatched and outmuscled man in a powerful display of all-out scissoring fury that has him quickly tapping out and on the verge of passing out several times! His eyes often bulge out of his head from the pressure around his neck and even go cross-eyed several times while Envy's thighs explode with unbelievable power. In the end she tells him it's time to have another look in the mirror at her impressive physique as she crushes him one more time in an excruciating head scissors proving she's more than ready for her next contest!
---
Click the thumbnail below to view the preview clip!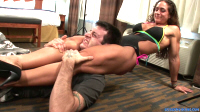 Full Download Video Statistics - HD Video

Compression Format:
Window Media Video 9

Video Length:

31 minutes

Encoded Bitrate:

3000Kbps
Aspect Ratio
16:9 Widescreen

Default Video Size:

1280x720
Total file size = 707 MB
The photo gallery/screen captures are in a zip file. Click the link below for video instructions on how to open a zip file.
All models were at least 18 years old when they were photographed.
---
All ScissorVixens content is protected by U.S. and International copyright laws. Any unauthorized duplication and distribution is strictly prohibited!
Copyright ScissorVixens.com 2004-2022