Lola Lynn's Savage Scissors!
featuring
Lola Lynn
SVDL-531
The pictures above are from the full photo gallery which you can download in one zip file.
There are 87 pictures in the full photo gallery.
Video Description
---
Lola Lynn may not have the physical attributes of the strong 'muscle' girls we often use in our ScissorVixens savage scissor series videos but after getting nearly knocked out myself and watching her knock out a previous victim...I knew she could more than 'hang' with the big girls! At only 5'3" tall and 115 lbs. this petite MILF hottie reduces four men, nearly twice her size, to screaming 'bitch girls' between her insanely strong thighs! Two of her male victims in this video have never experienced REAL scissors before and are pretty much speechless and in 'scissor shock' once Lola Lynn starts to ratchet up the pressure. And at one point, during a neck-breaking throat scissors, I suggest that she try to take it easy and pulse her squeeze so that I can get some good scissor footage without a split-second tapout. But...she looked up at me and said..."Nahhhh...I don't want to pulse my squeeze I just want to go for the quick kill!". And that she did crushing scissor submission after crushing scissor submission in her latest ScissorVixen video titled 'Lola Lynn's Savage Scissors!'.
---
Click the thumbnail below to view the preview clip!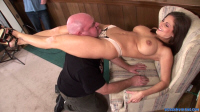 Full Download Video Statistics - HD Video

Compression Format:
Window Media Video 9

Video Length:

25 minutes

Encoded Bitrate:

3000Kbps
Aspect Ratio
16:9 Widescreen

Default Video Size:

1280x720
Total file size = 557 MB
The photo gallery/screen captures are in a zip file. Click the link below for video instructions on how to open a zip file.
All models were at least 18 years old when they were photographed.
---
All ScissorVixens content is protected by U.S. and International copyright laws. Any unauthorized duplication and distribution is strictly prohibited!
Copyright ScissorVixens.com 2004-2022