Sister-In-Law Squeeze
featuring
Ms. Savannah Sly
SVDL-491
The pictures above are from the full photo gallery which you can download in one zip file.
There are 153 pictures in the full photo gallery.
Video Description
---
Ahhh...In-Laws...they can be a real pain in the ass! Or in Joe's case...a real pain in the neck, legs, back, ribs or whatever other body part his gorgeous 6 ft. tall Amazonian sister-in-law can wrap her long anaconda-like thighs around! He comes home and is surprised to see his wife's younger sister, Savannah, sitting in HIS spot on HIS couch and asks his wife to join him in the kitchen for a private conversation. He goes on and on about what a slob she is and how she always takes his spot on the couch but his wife isn't buying it and knows exactly what the REAL problem is. She tells him..."This isn't about any of those things is it hunny?...you're just pissed because the last time my sister was here she kicked your ass in wrestling after you both had a little too much to drink! She gets those long legs of hers around you in a scissor hold and there's no way out for you but to tapout!". Of course he denies all of it and tells his wife her sister better not be sitting in his spot when he gets home from work. But that's exactly where he finds Savannah sitting later that evening and gives her one warning to get out of his spot. She mockingly says..."What are you going to do about it Joey...? Your wife won't be home for several hours so try and remove me from your spot...just go ahead and try!". And that's exactly what he does but in the split second he grabs one of her arms, she grabs the back of his head pulling it down between her wide open thighs and closing them like a steal bear trap! "Do you remember this...?" she asks while pulling him in even further, "...do you remember this squeeeeeze...?". And on and on it goes, one unbearable scissor hold after the other, until finally his wife arrives home to watch her younger sister humiliate her hubby once again. "Oh...you must have pissed my sister off again...didn't you dear...?" she asks. Unable to respond Savannah answers for him and says..."Yes he did and I think it's time to put little Joey to sleep so we can go out and have a few drinks!". Savannah swiftly spins around, pulls his head up as far and tight as possible in a eye-popping reverse head scissors quickly increasing the pressure around his neck until seconds later...he's squeezed out cold by her gorgeous thighs.
---
Click the thumbnail below to view the preview clip!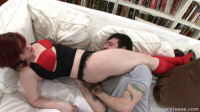 Full Download Video Statistics - HD Video

Compression Format:
Window Media Video 9

Video Length:

30 minutes

Encoded Bitrate:

3000Kbps
Aspect Ratio
16:9 Widescreen

Default Video Size:

1280x720
Total file size = 686 MB
All models were at least 18 years old when they were photographed.
---
All ScissorVixens content is protected by U.S. and International copyright laws. Any unauthorized duplication and distribution is strictly prohibited!
Copyright ScissorVixens.com 2004-2022