The Fountain Of Scissors
featuring
Chasey
SVDL-485
The pictures above are from the full photo gallery which you can download in one zip file.
There are 131 pictures in the full photo gallery.
Video Description
---
Chasey is a smoking hot 40-year-old figure competitor who shows up for an audition but is told by the promoter that the age cut-off is 35 and she doesn't qualify. She quickly brings to his attention the fact that she looks better than most of the 20-year-olds she saw standing in the hall and he agrees asking her..."What...did you find the fountain of youth or something...?". She replies by showing him one of her secret techniques for staying young and athletic by showing him her 'Fountain Of Scissors' in a never ending flow of one murderous scissors after the other! Chasey wraps her powerful, lean thighs around his head and starts to pour on the pressure proving to him that she is more than worthy of making the cut thanks to her rock-solid body and killer squeeze. He begs for mercy and asks her to stop but she just keeps pouring on the pressure until the end when he finally agrees to give her the part and proves that 40-something is now the new 20-something!
---
Click the thumbnail below to view the preview clip!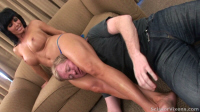 Full Download Video Statistics - HD Video

Compression Format:
Window Media Video 9

Video Length:

30 minutes

Encoded Bitrate:

3000Kbps
Aspect Ratio
16:9 Widescreen

Default Video Size:

1280x720