Goddess Max Payne's Savage Scissors!
featuring
Goddess Max Payne
SVDL-479
The pictures above are from the full photo gallery which you can download in one zip file.
There are 91 pictures in the full photo gallery.
Video Description
---
Once again we at ScissorVixens put on our stupid cap and invite disaster, this time by having Goddess Max Payne of Atlanta put us through absolute hell in another savage scissor video! This big, black, beautiful babe knows absolutely NO boundaries! Most of the times, no matter whose savagely scissoring us, we tap, they stop. To Max, a tap is just encouragement to DO IT HARDER!! This ebony dominatrix is just brutal with a capital B in her laying of the leg to her two victims in as savage a series of scissors as you will ever see here or anywhere else! Her thighs are huge, powerful, man-eating, head-cracking black pillars of pure power and she unleashes them in all manner of crushing scissors! She has first Drew and then Kandor absolutely screaming for mercy - and shows none, often ratcheting up the pressure even more! You like savage scissors? You will LOVE Goddess Max Payne's Savage Scissors!
---
Click the thumbnail below to view the preview clip!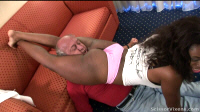 Full Download Video Statistics - HD Video

Compression Format:
Window Media Video 9

Video Length:

31 minutes

Encoded Bitrate:

3000Kbps
Aspect Ratio
16:9 Widescreen

Default Video Size:

1280x720