Scissor City
featuring
Ariel X
SVDL-475
The pictures above are from the full photo gallery which you can download in one zip file.
There are 134 pictures in the full photo gallery.
Video Description
---
A business man is greeted by a pretty hotel worker during his visit to Las Vegas. She arrives wearing a sexy 'school girl' outfit along with black, leather shoes and matching black socks to which he says..."Wow...I guess this is why they call this place 'Sin City' huh...?". Ariel X just smiles back at the man and says..."Well sir...here at this hotel...we call this 'Scissor City' and I'm about to show you why!". Ariel X just LOVES to squeeze and she uses her long, lethal thighs to scissor the man senseless with some of the most brutal head scissors you'll ever see! Her reverse head scissors are especially lethal as she loves torturing the man repeatedly while hanging his head off the corner of the bed! You can even hear her sexy, black leather shoes creaking together as she slowly increases the pressure! The is one Vegas visit this unlucky visitor won't soon forget!
---
Click the thumbnail below to view the preview clip!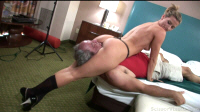 Full Download Video Statistics - HD Video

Compression Format:
Window Media Video 9

Video Length:

32 minutes

Encoded Bitrate:

3000Kbps
Aspect Ratio
16:9 Widescreen

Default Video Size:

1280x720