Exit Interview Crush
featuring
Envy
SVDL-474
The pictures above are from the full photo gallery which you can download in one zip file.
There are 119 pictures in the full photo gallery.
Video Description
---
Envy is an exit interview specialist for her company and when she finds out that a key employee is trying to steal confidential information and give it to a rival competitor she decides to give him an interview he won't soon forget! Watch as Envy uses her 24-inch Quadzilla thighs to put the squeeze on the insubordinate employee forcing him to give up the information he had planned on confiscating and forcing him to promise not to share it with any other company. After pleading for his life the man agrees to her terms and leaves the company empty handed along with a sore neck and ribs from Envy's 'Exit Interview Crush'!
---
Click the thumbnail below to view the preview clip!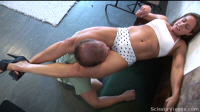 Full Download Video Statistics - HD Video

Compression Format:
Window Media Video 9

Video Length:

30 minutes

Encoded Bitrate:

3000Kbps
Aspect Ratio
16:9 Widescreen

Default Video Size:

1280x720