Scissor For The Camera
featuring
Tawny
SVDL-472
The pictures above are from the full photo gallery which you can download in one zip file.
There are 96 pictures in the full photo gallery.
Video Description
---
Jill's a model who is fed up with her nagging photographer always telling her to smile for the camera. Although Jill's not in a smiling mood...she is in a scissoring mood and decides to 'Scissor For The Camera' instead! She pulls her photographer into a murderous front headscissors and says "You know what I'm going to do?...I'm going to smile while scissoring you!". And smiling while scissoring is exactly what she does nearly strangling her photographer to death clearly having a good time in the process! In the end, while seated on a bench and crushing him in a front headscissors, she tells him..."Why don't you, Mr. Photographer, smile for the camera while I SCISSOR FOR THE CAMERA!?". Jill proves that teaching models like her how to scissor can be a very dangerous thing!
---
Click the thumbnail below to view the preview clip!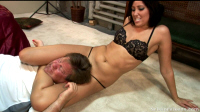 Full Download Video Statistics - HD Video

Compression Format:
Window Media Video 9

Video Length:

30 minutes

Encoded Bitrate:

3000Kbps
Aspect Ratio
16:9 Widescreen

Default Video Size:

1280x720